Spring has sprung, and what better time for the launch of our budding Newsletter? Here's a look at the newest features sprouting up at NetBooks and the projects we've been busy with for the past several weeks.
First, we want to welcome all our beta users to NetBooks. Your numbers are growing daily, and we thank you for your vote of confidence. We're here to provide you with everything you need to succeed.
New Features from NetBooks

Balance Sheet. Your balance sheet is a summary statement of your company's finances. Think of it as a snapshot of your company's financial condition at a single point in time. With the balance sheet report at NetBooks, you'll know where your company's finances stand at the click of a mouse. Learn more >>
Bills. They won't go away, but you can organize them with NetBooks. Keeping track of your bills means you manage your Accounts Payable efficiently, and have a clearer picture of your cash on hand. Paying on time means you may be eligible for discounts, and your vendors are happy. It's a win/win. NetBooks shows you what bills are due when you log in – reminding you that there's no time like the present to get current. Learn more >>

Import your contacts from Outlook, Yahoo and GMail. Now you don't have to spend time hand entering your contacts. NetBooks allows you to import them in one easy step. Yet another way we make your transition to NetBooks seamless. Learn more >>
Meet Our Customers – Turq Jewelry
Our customers are your cohorts in small business, and we want you to get to know each other. Each newsletter, we'll be showcasing one of our best customers so you can see the kinds of businesses and people that are benefiting from using NetBooks. This time, we'd like to introduce you to jewelry designers and entrepreneurs Lee Lesley and Kathleen Weeks of Turq Jewelry, based in Charlotte, North Carolina.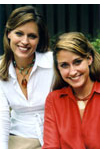 On switching from QuickBooks to NetBooks, Lee says, "We researched several online accounting solutions but found them to be both too expensive and too limited in the range of features offered. We were very excited to learn that NetBooks was launching a new product, one that answered every single one of our needs. After over 7 years with QuickBooks, we took a leap faith and decided to convert to NetBooks – and we've never looked back! Immediately we were excited, the user interface was incredible, so simple and straightforward. But most importantly, I can work in Virginia, Katherine in North Carolina and our sales employee also works from any location." Enjoy the rest of the Turq Jewelry story on our blog.

We love hearing from you, so drop us a line. Take advantage of UserVoice, the customer feedback portal on our website, where you can review and vote on ideas submitted by your fellow NetBooks users, or suggest your own. We implemented many of our current features, like Bills and Balance Sheet, because our customers requested them. Check back soon for Inventory Management and other cool new features. You asked for it, we did it. Your priorities are our priorities, so keep the ideas coming!

Help us spread the word about NetBooks! If you like what we do, let people know and refer a friend to NetBooks. Simply click on the Tell a Friend icon on the home page of your NetBooks account.
Keep up with the latest and greatest on NetBooks via the NetBooks blog. Thanks for your support, and keep coming back!
NetBooks, Inc. 475 Sansome Street, Suite 510, San Francisco, CA 94111
Please contact us at support@netbooks.com or visit us at http://www.netbooks.com